RAPID TESTING TECHNOLOGIES
For over 20 years, Eurofins Abraxis have developed, manufactured and marketed rapid environmental, food, and life science testing solutions to meet the needs of research and industry. Our solutions range from fully quantitative assays suitable for in-house laboratory analysis to tests that can easily be performed in non-laboratory environments to support on-site decision-making. Our kits help customers reduce time to results and many of our products are validated/verified by agencies such as US EPA, USDA, USGS, FDA, Japanese Ministry of the Environment, and WHO. Eurofins Abraxis holds, or is exclusive licensee, of several key technology patents, with additional applications in process.

Solutions for Local and Global Manufacturers
As a member of the Eurofins Technologies' group of companies and building on the experience and scientific excellence of the Eurofins Group, we are able to provide comprehensive, customized and consistent solutions, both for in-house and external testing:
• Fully customizable to support your quality management strategy;
• Best-in-class technical support and expertise from the world leader in bioanalytical testing;
• Consistent product quality and customer service globally.

Special Focus on the Industry of Food, Beverage and Agriculture
Due to the fast-paced globalization, today's food supply chain has to serve a growing population in conjunction with an exceptionally high demand for quality, safety and sustainability. Testing of raw ingredients and final products is very important in the Food, Beverage and Agricultural industries to comply both with strict regulatory and quality regulations at every stage of the process. Testing solutions don't need to be expensive or time-consuming.
We offer a wide range of products and services applicable specifically for Food & Agriculture including rapid testing solutions for:
• Bacterial Toxins
• Estrogens
• GMO's
• Ionophores
• Mycotoxins
• Pesticides (Glyphosate)
• Veterinary Residues / Additives


Searching for affordable Automation Solutions and Lab Equipments?
Eurofins Abraxis also offers a great variety of precise, compact and cost-efficient instruments and lab equipments for measuring optical signal produced by ELISA, RBA, and other assay types, from our fully-automated analyzers to ELISA plate and test strip readers.


                                                 Product Portfolio Overview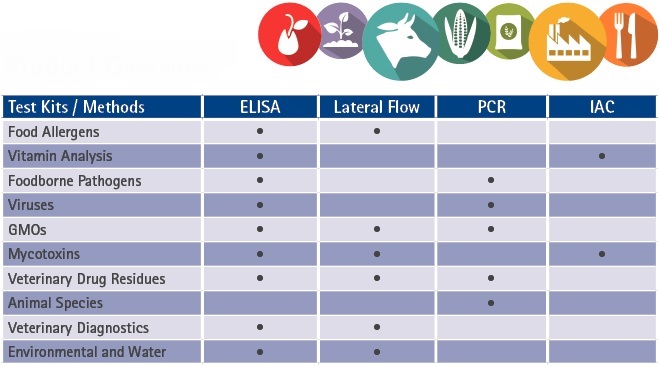 >> Download Product Catalogue 2020 <<

Contact us today via phone at +1-215-357-3911 or via email using the links below!
Customer Service/Order Processing
Sales Inquiries/Price Quotes
Technical Support